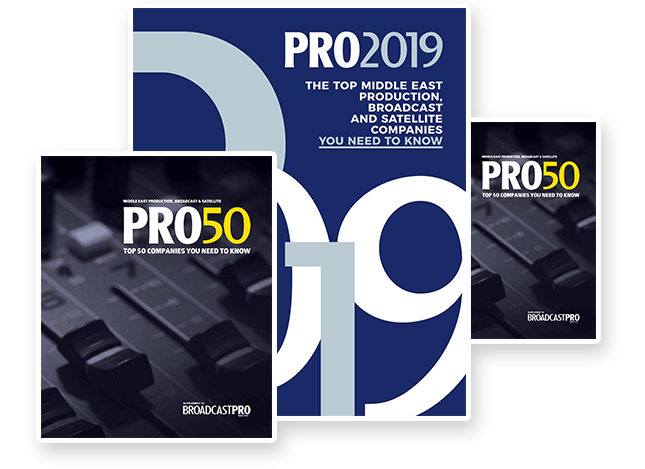 A complete Broadcast ecosystem – and a shop window to the market-makers
The BroadcastPro Directory is the region's only comprehensive listing of the key players in the Broadcast & Media sector. It's the definitive guide to who is doing what, how to reach them and the scope of services on offer. An extremely user-friendly format ensures ease of access to each and every entry, with the rich quality of data and research you'd expect from the publishers of the sector's foremost industry gazette – BroadcastPro ME.
What's more, the scope of the Directory includes businesses across the MENA region – ensuring maximum relevance and outreach.
There is coverage on key sectors such as –

The BroadcastPro Directory and your business
A Directory listing is a powerful way to ensure that your business is positioned at the vanguard of companies influencing and servicing the Broadcast sector. You can describe what the company does, its key USPs and include key case studies and points of contact. Plus, you'll be able to feature major projects and showcase clients.There's scope to customize your entry – so you can build competitive edge and up-scale market prominence.

'Smart' search, smart solutions
The BroadcastPro Directory lets users search by any product or service criteria - visitors simply type in what they're looking for and find a full list of the leading providers. Not only optimizing relevance for the end-user, but we also ensure that there's the best possible opportunity for your own business to be first-to-mind.
The annual BroadcastPro2020 Book in its tenth year is a guide to finding reputable and trusted service providers as approved by us! Book your space in the print edition and don't miss out on the potential of being seen by thousands of potential business partners.
The BroadcastPro Annual Book is available in both in Print and Digital formats
If you would like to be part of the 2022 annual print edition, please enquire here.
To be listed exclusively on the BroadcastPro Industry Directory website, please click here.
Order or Renew Your Listing Now
What makes the Pro Book and Directory the most important product to advertise in?
1.

The only directory of its kind the MENA industry

2.

A comprehensive introduction from a regional analyst on the leading trends in the market place

3.

Wide-ranging and insightful case studies

4.

2020 buyers' guide

5.

12-month online and print shelf life

6.

Most trusted and comprehensive resource for broadcast technology in the MENA region

7.

Part of the region's most successful publication on broadcast technology

8.

The most qualified C-level readership you'll ever find across media and entertainment in the region
Contact us for a high-impact package to stand out and generate leads.
Interested in premium advertising opportunities?
Contact Sandip Virk – Sandip.virk@cpitrademedia.com